Articles on the Sexual Assault Prevention Initiative
The SGA has ruled in favor of supporting a bill that provides bystander intervention training for employees of nightlife establishments in the Burlington area.  
The Bystander Intervention Training for Establishments Serving Alcohol in Burlington was supported by SGA April 11. The initiative was proposed by city councilor Adam Roof.
If the bill is passed, bartenders and other nightlife staff will be trained in bystander intervention by HOPE Works employees and other experienced nightlife employees, according to the bill passed by the SGA.
HOPE Works is a Vermont organization dedicated to ending all forms of sexual violence, according to its website. 
Roof said he originally reached out to SGA because he felt it was important for students to be a part of the initiative, as sexual assault is especially prevalent among ages 18 to 24. He has been pleased with the response so far, he said. 
"I'm floored by the level of support of the community," Roof said. "It's very impactful to show people how supportive the student body is."
The SGA started a petition in support of the program is currently circulating UVM, SGA Sen. Reginah Mako said. 
The petition currently has over 200 signatures, and SGA hopes to obtain at least 500, according to Roof. Roof feels the petition would be very helpful in convincing the city council to pass the initiative, he said.
"We hope that the support from UVM students emphasizes the importance of the initiative to City Hall," Mako said. 
Roof will be presenting at a city council meeting to request funding for the 18-month pilot program April 17.
When UVM graduate Adam Roof '11 (I-Ward 8), was a student, he knew that he wanted to do something to address sexual assault in Burlington, he said.  Today, as city councillor, he's doing just that.
In an SGA meeting on March 28, Roof asked for UVM's participation in a bystander intervention program at Burlington's bars and restaurants.
Roof asked for student input and support in implementing the 18-month pilot program, which would train bartenders and servers around Burlington on how to intervene when they sense danger of sexual assault, Roof said.
At the meeting, Roof asked for SGA's help in spreading awareness to students about the bystander intervention program, said Heather Scott, chair of the SGA committee on legislative and community affairs.

...

Sophomore Abby Staley said the initiative sounded like a good first step, and something that would work down at the bars around Church Street.
The venues that Roof had already contacted– including Rasputin's, What Ales You, Akes and Reuben James'– have already expressed interest in sending their employees to get trained, Scott said.
Roof said the funding he will request will go towards developing training and paying staff members for the sessions, which would meet six times over the course of a year and a half.
...

While a UVM student, Roof was a student representative on the board of trustees. That's where he first started thinking about the University's role in preventing sexual assaults, he said.
Then, while working with National Center for Campus Security in Burlington, he was introduced to an organization that does bystander intervention for nightlife venues, he said.
"I wanted to bring this city-wide," he said, "especially because there are a number of colleges in the area. While sexual assault doesn't discriminate, it disproportionately affects females ages 18 to 24– the so-called college-aged population."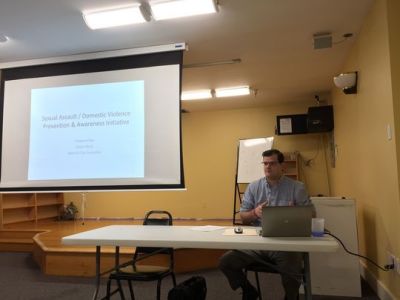 ​​​​​​​​​​​​
One city councilor is hoping to pilot a program to prevent sexual assaults by training bar staff to intervene at signs of trouble.
Adam Roof, the independent councilor who represents Burlington's Ward 8, is hoping to win approval from the city's Board of Finance to use $10,000 to develop bystander intervention training for staff and management of the city's bars. The former bartender is pushing to eventually have that training incorporated into Burlington's liquor license application and yearly renewal processes.
Training bar staff in bystander intervention is not new, though Roof said he's unaware of any other city that is examining incorporating the training into its licensing practices. Bystander intervention refers to when a nearby person — such as a bartender or bouncer — can step into a situation where a bar patron is behaving in an uncomfortable way toward another patron and defuse the situation.
​

Articles on Supporting the Homeless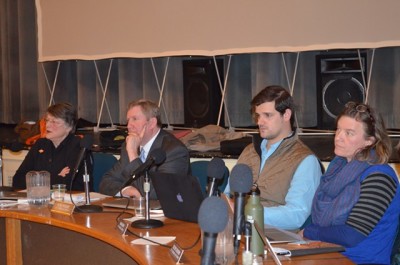 "Recommendation number one is to increase the capacity of the low barrier shelter and conduct a one year pilot period to investigate the benefits of 12 month operations; to review and possibly adopt the city's internal encampment removal procedure; short but important increase public restroom access in the downtown core; increase communications between the Chittenden County Homeless Alliance and the city council; finally a recommendation that asks the administration to put forward a budget with increased funding for street outreach and for housing retention and that the administration explore and support state legislation changes for expanded Medicaid coverage for social work positions relating to homelessness and low-income housing." - Adam Roof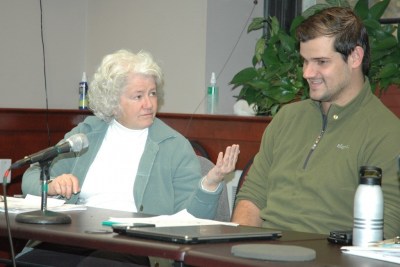 Some recommendations include adding a public restroom, providing antibacterial and sunscreen dispensaries. Also conducting a yearlong pilot period to see what a 12-month homeless shelter would accomplish, encouraging community involvement for transients and increased funding for the Howard Center's Street Outreach.
The document was submitted by Burlington City Councilor Adam Roof.
"I think they're are all important," Councilor Adam Roof said. "I also think that we aren't pretending it's a set of recommendations that's going to solve homelessness. It's a set of recommendations that are a positive step forward recognizing that this work is always on-going."
The City Council passed a pair of resolutions Monday night aimed at reducing so-called quality of life offenses, such as public drunkenness, that officials say are fueling recent violent incidents downtown.

The first resolution, offered by City Councilor Adam Roof, I-Ward 8, drew unanimous support. It directs the Public Safety Committee to convene a group to look for new ways to reduce public safety issues and support the city's homeless people.
Articles on Affordable, Quality, and Fair Housing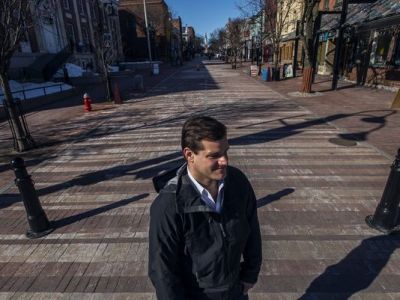 "Important projects and mission-driven organizations are being supported and the community at large is getting a win. The HTF is critical to the City's comprehensive mission of creating and preserving affordable housing for those who earn a low and moderate income." - Adam Roof
​
City Councilor Adam Roof, I-Ward 8, said he was appalled after he toured one of Kwon's properties while searching for an apartment in Burlington.
"In my experiences, Soon Kwon's properties are categorically deplorable," Roof said. "While seeking housing for myself last spring I had the displeasure of viewing one of his units, and I was saddened by the condition the current tenants were living."
Roof praised the work of Ward and his inspectors and urged Code Enforcement to hold bad property owners accountable.
Articles on National Issues
asdfasdfsadfasdfasdfasdfasdfsddddd
City officials and stakeholders are inching toward a vehicle-for-hire ordinance aimed at accommodating the new world of digital ride-hailing ushered in by Uber's entrance into the market last year.
​City Councilor Adam Roof, I-Ward 8, questioned a provision requiring that drivers for hire have a Vermont license, saying that could limit temporary residents, such as students or contract workers, from making money on the side by driving for a car service.

Roof said that with the decreased workload for city employees who will no longer have to conduct background checks for every driver, there should be capacity to look at new enforcement tools.
​
The Justice Department threatened to cut federal funding for the state of Vermont and the city of Burlington in letters that warned each may be violating federal immigration law.
...

Vermont would lose nearly $500,000 in Byrne Justice Assistance Grants if found not in compliance, while Burlington would lose about $40,000 in federal funding, according to Sen. Patrick Leahy's (D-Vt.) office.

In a statement, Leahy blasted Sessions for the threat, calling it "shameful."

"I strongly believe that police chiefs and local leaders should decide what state and local policies are necessary and best to keep their communities safe — not an Attorney General who is attempting to extort immigration reform by cutting off vital public safety dollars to local communities and their residents," Leahy said. 

Congressman Peter Welch (D-Vt.) chimed in with a dose of criticism for President Donald Trump on Wednesday night, saying the letter was an effort to "strong-arm" the state to submit to federal immigration policies. He urged the courts to block the decision.

Sen. Bernie Sanders (I-Vt.) called the decision a way for Trump "to divide us up rather than go forward with comprehensive immigration reform."

"We cannot and do not want to live in a society where people are afraid to call the police to get the help they need because they are worried about the consequences for their own lives," Sanders said in a statement.

The Justice Department letter to Queen City Mayor Miro Weinberger takes specific aim at the Burlington Police Department's Fair and Impartial Policing Policy. In a retort Wednesday evening, Weinberger said that the BPD policy is in compliance and "we do not believe the federal law requires us to implement the current president's draconian immigration policies. 

"Regardless of who populates the administration in Washington, the federal government has no authority to deputize Burlington police officers to enforce federal civil immigration laws," Weinberger said in statement. "We will be responding to the letter by the deadline and forcefully arguing our case."


Burlington residents will have a chance to vote on a $15 an hour minimum wage this March.
City Council members at Monday's meeting approved placing an advisory question about the issue on the Town Meeting Day ballot. The question is nonbinding, but supporters hope the measure will influence state legislators to take action on raising Vermont's minimum wage.
The motion passed nearly unanimously, with Kurt Wright casting the sole dissenting vote. Dave Hartnett, the owner of a small business, recused himself.
The state minimum wage increased on Jan. 1 from $9.60 an hour to $10 an hour. It will increase to $10.50 in 2018.
Vermont Labor Secretary Annie Noonan estimated about 30,000 Vermont workers would be affected by the change.
​Burlington City Councilor Adam Roof, I-Ward 8, said he believes concerns over public safety are issues cities should be able to control in order to protect people within their communities.

"I think there's no place for firearms in those establishments in Burlington, Vermont," Roof said Friday of bars and nightclubs.

Roof, who said he used to work as a bartender and in other roles inside bars and busy night spots, noted he has witnessed guns and ammo inside bars in Burlington and has found related paraphernalia that had been dropped on the floor, forgotten by the gun owner, of at least one Burlington establishment.
Articles on Promoting Involvement in the Democratic Process
On Monday night, the city council made a move in that direction, by passing a resolution with a 10 to 1 vote to have the board for registration of voters look into universal polling locations.
Ward 8's Council Member Adam Roof initiated the resolution.
He said polling places are too spread out and adjusting the system, may improve voter participation.
"People get confused. People don't know where they are going. You have elderly that have challenges with transportation. You have students will trouble knowing the town where they're supposed to be going," said Adam Roof.
Voter turnout for the general election in 2014 and 2012 were pretty low.
Not even half of registered voters showed up at the polls.
"A lot of times it doesn't make sense practically for folks who work or have childcare in a different part of the city to have to get back to their home base to cast their vote there," said Roof.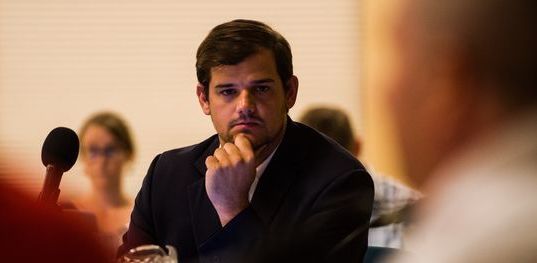 Councilor Adam Roof, I-Ward 8, who sponsored last year's resolution, said the public should vote on whether they feel that the city still needs the designation system, and said he believes there are times when "the party-backed system gets in the way of governance."
Younger voters are less beholden to the existing political parties and are interested in candidates who are "individual thinkers," said Roof, who, as an independent, is not affiliated with a political party.
Roof said their criticisms assume voters are uninformed about who they are choosing, and a government can't work properly if decisions are made assuming the public is uninformed, he said.
​